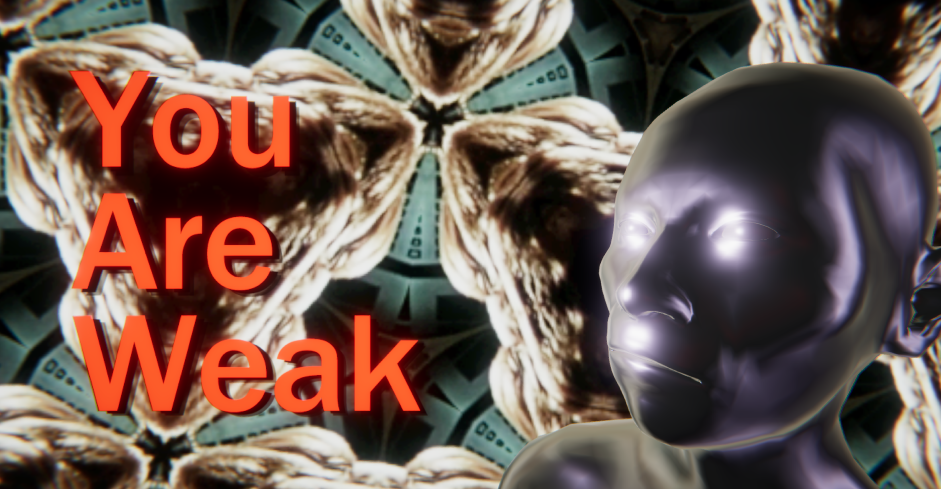 You Are Weak
A downloadable game for Windows
--------
A ritual for the darkest of times.

A game about community and change in a fractured world.

--------

CONTROLS/GAMEPLAY
WASD/Arrows to move
When flying - SPACE to glide up, ALT to glide down

Left Mouse Click to interact

> This game is meant to be played in one sitting, but it has an auto-save system so you can play it in multiple sessions. Depending on your way of playing, a playthrough will take between 30 minutes and 2 hours.
(Note: this game is Windows only. A Mac version might happen but probably not.)

--------
MUSIC CREDITS

> The soundtrack of the game is included in the download.
In addition to in-house sounds, this game contains music by:
Asio Otus: https://soundcloud.com/asiootus
Random Select: https://matiasbrunacci.com/randomselect.html

Luminance ("Un Dernier Regard sur le Vide", taken from the album "AHEAD"): https://luminannce.bandcamp.com/

Area 57: https://audioscam.bandcamp.com/releases

--------
OTHER CREDITS
In the process of making this game we used a fair amount of free assets.

Sometimes, because it saves time and work (why model a realistic ashtray if you can download the exact same one for free?). Sometimes, as an aesthetic choice.
All assets we used are copyright free, but that doesn't mean people shouldn't be credited for their work. Sadly, over years of downloading free assets, we have often lost the original source.
So if you see (or hear) something you made in this game and want to be credited for it, just send us an email!
In the meantime we want to thank all the people making great contributions to:
https://archive.org/details/prelinger

--------
ABOUT US
You can play our other games or follow our future projects on our website.
Also, if you like this game, be sure to check out our work with the collective AAA

> What we do is free, but any support in the form of a donation is very very welcomed!

--------
CONTACT
If you want to give us feedback or have any questions, you can write us at outlands.games @ gmail.com

Download
Click download now to get access to the following files:
Soundtrack YAW.zip
215 MB